Hello and congratulations on your engagement! Thank you for visiting my website. Finding the right officiant to marry you is an important decision because that person will have a huge influence on the tone and success of your ceremony.
The one main thing that you as a couple, your wedding party, family, friends & guests will remember most about your entire wedding day is the ceremony - it is the heart and soul of your wedding day and will likely be your most personal memory of your special day. Far too often securing the right officiant to perform the right ceremony is left as an afterthought. Choosing an experienced professional wedding officiant is more important than most people realize.
I am a wedding professional. I have been writing and presiding over wedding ceremonies since 2006. I am experienced as a public speaker and wedding officiant, having solemnized the marriages of over 1000 couples! I am passionate about what I do and dedicated to giving you the very best; my standards call for nothing less than excellent. I will work with you to create your personalized ceremony based on your personalities and what you tell me you want...whether you want a big, dream wedding, an alternative to a 'court-house-steps quickie' or an intimate, meaningful elopement for "just the two of you".
Of all the things you will have to worry about on your wedding day, one of them won't be me! I will return your phone calls and emails promptly; I am professional and punctual!
Please feel free to call me at any time during the process with your questions. Don't know what place to get married or need recommendations for a photographer, DJ, caterer, etc? I know many venues/ beautiful places and dependable people to help make your day stress free and special. I'm happy to send you my list of venues and recommend vendors that I have worked with. Please consider me a resource as you plan your special day!
Additional information on my blog here: http://weddingwoman1.blogspot.com
Area wedding venue recommendations click here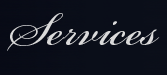 Optional 'get acquainted' visit with bride and groom to answer questions, discuss your 'vision'. (You come to Anderson, SC - Elopements are not included.)
File your license with probate after the wedding. There is no need to return to the courthouse.
Travel to the location of your wedding. Thirty (30) minutes one-way, 1 hour round trip included - (a travel fee may apply if more time required).
Unlimited email & telephone support - ceremony ideas, locations, vendors, etiquette - I am happy to assist!
Personalized, meaningful, memorable ceremony based on personal information that you give / we discuss.
'Mini Ceremony or tradition' listed under the 'Optional Ceremonies' section of this page. You may include one at no additional fee (elopements excluded).
Attend your Rehearsal and direct / be the point person if needed. (Additional fee does apply)
Commemorative Marriage Certificate "Keepsake" (lakeside elopements excluded).
Copy of your Marriage License emailed to you after the wedding. (optional)
Name Change Assistance - Information & forms for the Social Security Administration. I also give DMV driver's license info for states I serve (GA/ NC/ SC).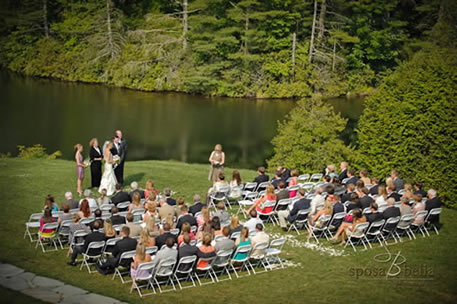 Which Level of Service do you desire?

An Elopement Ceremony is short notice. They are scheduled around my full service weddings on the weekend March thru December. You come to me (Anderson, SC) or, if I have a wedding booked in your location on the date you want, I can schedule your elopement before or after that appointment (e.g. if I have a wedding booked in Greenville, SC I can schedule you for an elopement in Falls Park).

Elopement appointments are available year round (fee will increase on a holiday or special date e.g. Valentine's Day). The elopement ceremony is scripted, lovely, romantic & meaningful ceremony. You have a choice or religious or non-religious and if you choose to do so, write your own vows and of course, exchange wedding rings. ** The elopement option does not include meeting with me, readings, an optional ceremony or tradition (e.g. Unity Candle/Sand) and I don't send you the ceremony for approval or edits. If you want any of these options, they are of course available at a higher level of service. Please contact me to discuss your needs.
Drive By - $50. "Kiss & Go Signature Service" Simple execution of the marriage license documents. You come to me. We meet in a public place in Anderson, SC. Name change information provided. (Not available on holidays or Valentine's Day)
Elope Lakeside! - Outside Elopement - Couple +6 - $150. Midweek (Monday thru Friday) - $175 on the Weekend - Saturday & Sunday. A lovely, romantic, intimate lakeside ceremony on Lake Hartwell (weather permitting) - You come to me and you may invite up to 6 guests (children do count as a guest :) To view some of my Lakeside Elopement Photos please click here.
Inside Elopement on a Historic Farm - $375. This option includes Chapel Rental for couple and up to 10 guests on a beautiful Circa 1790 historic farm located 3 miles from exit 19 off of I-85 (pending availability) (The total $375 is for ceremony / officiant & venue) Time allotment is 1 hour, 15 minutes for paperwork, ceremony & photos. Add professional photographer is $125 additional for 1 hour, 15 minutes (pending availability). To view images of some of my weddings at the farm, please click here.

Small Wedding in the historic farm chapel - You can elect to upgrade and invite more guests (up to 20) and additional time for a small reception (Cake, Light Snacks, Punch, Champagne toast which you provide). The reception would be in the adjoining dining room. There is also a 'brides room" to get dressed. Additional fees will apply, please contact me to discuss your needs.
Outside Ceremony on the Historic Farm - $250. (weather permitting & pending availability) - Couple + 8 guests max. ($200 ceremony +$50. for venue) Add professional photographer is $125 additional for 1 hour 15 minutes (pending availability).
* Full Service - Unique, Custom Wedding Ceremony - $350. Unlimited number of guests, includes a meeting with me to get acquainted and discuss your 'love story' and wedding vision which I will incorporate into your ceremony. Also includes readings and an optional 'ceremony or tradition' (see choices on this page). I will give you the ceremony that I write as a keepsake. I travel to your event venue or location address.
** + Rehearsal - Attend & direct your rehearsal - family seating, processional, recessional - $125. This is an additional fee to full service option above.
*** Travel time and Mileage fee may apply.
My fees are based on the professional quality of the services you receive. It also depends on the location of the ceremony and whether there will be a rehearsal.
Please call me for more information & to discuss your needs. Thank you! 864-365-6022

Religious - Holy Union
Semi-Religious - Traditional
Secular - Civil - Spiritual Non-religious
Humanist - Intercultural - Interfaith - International
Contemporary - "Short & Sweet"
I will travel to your location, a Wedding Chapel, your home or any venue within my travel area.
Elopement - You come to me, ceremony on beautiful Lake Hartwell ~ Least expensive option for those on a budget (this option does NOT include a meeting or a 'mini ceremony' or tradition) You may write your own vows if you choose.
Write your own vows or 'a special letter' to each other to be included in the ceremony (this IS offered in elopements)
Vow Renewal - Affirmations of Love and Commitment. I support marriage equality!

The Processional of the Wedding Party
Words Of Welcome
Family Blessing (give the bride away)
Moment of Remembrance and Opening Prayer (no prayer if you choose non-religious)
Opening Remarks
Declaration of Intent
Readings & Music (optional - poem, passage, reading or special song)
Wedding Vows
Blessing and Exchange of Wedding Rings
Optional Mini Ceremony or Tradition - adds a nice touch (see options / suggestions below)
Benediction - Closing Wedding Blessing
Pronouncement of Marriage
And then, you Kiss!
Presentation (of the new couple)
Ceremony Recessional

I am happy to include these in your wedding at no additional charge (Elopements Excluded). They add a 'visual effect'- your guests are more likely to remember what they 'see'.
I will explain any that you aren't familiar with.
Unity Candle or Sand - Symbolizes the blending of your two lives/families into one.
Pass the Peace Candle (can be done in conjunction with Unity Candle - small weddings best).
Memory Candle to honor the memory of those that have passed.
Rose Ceremony - your first gift to each other - a single red rose means "I love you".
Butterfly Release - Butterflies represent a new beginning!
Breaking of the glass - "Mazel Tov!" Symbolizes that 'Life is Fragile'.
Blessing or Wish Stones - "Write your sorrows in the sand, your blessings in Stone."
God's Knot - (the cord of 3 strands) - Ecclesiastes 4:12 "A cord of three strands is not easily broken."
True Lover's Knot - The knot symbolizes your future and how your love and marriage will continue to be strong despite life's trials.
Ring Warming - works well with small, intimate weddings.
Parental Honoring - Say thank-you to your parents in a special ceremony.
Blended Family Ceremony - Join your two families. Parent & children "vows".
Love Letter and Wine Box Ceremony - Prior to the wedding, Bride & Groom write a letter to each other and place it in Special Box that is opened on a chosen anniversary date.
Wine Ceremony - Drink from the "Cup of Life" -Symbolizes the journey of life before you.
Tree (Sapling) Planting - Symbolizes the roots of your relationship & continued growth of your love.
Paint Pouring - Every painting and every marriage begins with a blank canvas.
Jumping the Sword and/or Broom - Sword symbolic of cutting ties with the old life / Broom represents the remnants of old life being swept away.
Breaking of the Plate - Czech Tradition - By jointly cleaning up the glass, your marriage will be harmonious.
Hand-fasting Ritual - A symbolic ceremony to acknowledge that your lives & fates are now bound together.
Fisherman's (or Unity Love) Knot - Two overhand knots, linked together like 'true lovers' are in their hearts.
Truce Bell - When disagreements arise, put your bell to good use.
Bread, Salt, Honey & Wine - Ukraine tradition - gifts from the earth to bless your union.
Ceremony of the Hands - Bride & Groom view the hands of the other as a gift.
Tying of the Minnu (Thali) - An Indian custom. A symbolic act by the groom that represents accepting the bride as his own in the life-long inseparable bond of marriage.
Water Ceremony - Pour 2 different colored waters into a 3rd vessel creating a third color to blend your lives.
Divorce Ceremony - Recognize the hurt & pain that divorce causes. Begin together with friends & family, the process of healing and the journey forward to a life of peace & happiness.
Any other ceremonies, traditions, readings, poems, etc. that you want included.
Please call me to discuss your needs. 864-365-6022